The servers that are being manufactured today typically contain 4 or more processors and are capable of handling 100′s of GB's of memory.  With this type of power, running a single operating system with a single application does not put much of a load on the server.  So, consequential the server would spend most of it's time idling.
We recommend that you look at virtualization technology to use the resources of the server more effectively.  Server virtualization allows for more than one server to operate on the same piece of hardware.
Advantages of virtualization:
           Reduce power consumption by 50-80%
           Reduce number of physical servers use/needed
           Reduce support and maintenance costs
           Enhance reliability, security and protection
           Increase Performance
           Offers cost effective disaster recover
           Better use of server's resources
           Reduce IT capital expenditures by sharing resources
           Reduce cooling and real estate costs.
           Minimize lost revenue or productivity due to downtime
           Recover from disasters rapidly
           Ensure reliable disaster recovery
           Automate disaster recovery using fail over technique
           Takes full advantage of the server's performance.
           Less power backup resources required
           Safer, faster backups and restore
           Simplified IT Management from a remote location
           Future upgrades are significantly less complicated which results in lower  cost, less downtime and less risk
         Ability to quickly set up a test environment and try an application upgrade prior to applying it to production data
I recommend two server virtualizations products, Microsoft Hyper-V and VMWare.
Microsoft Hyper-V:
Microsoft Hyper-V is free virtualization that comes with Microsoft 2008r2 server. It is
is a good solution in a all Microsoft server enviroment especially where there is a limited budget. For more details go to: Microsoft Hyper-V Virtualization
VMware:
VMware is a more robust solution. It is based on a Linux kernal and allow you to virtualize other operations system other than Microsoft, such as Novell and Linux.
It is a more mature product with many advance features. It is the product used in most enterprise enviroments for server virtualization. For more details go to: Compare VMware to Hyper-V Virtualization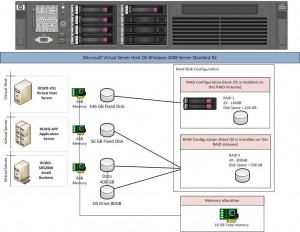 Larry Phelps
Solbrekk, Inc
Minneapolis, Minnesota